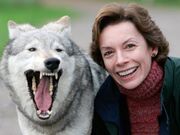 19 Jan
Author Michelle Paver in the Hot Seat
Edit
Michelle has sold the rights to her first 6 books to Hollywood and famous director Ridley Scott so
 SuperClubsPLUS is lucky enough to have author Michelle Paver in the Hot Seat on 27th March from 10am - 11am (UK time).

we will soon see Michelle's work on the big screen! Join in the hot seat to find out more about what it's like!
Michelle's first series was called CHRONICLES OF ANCIENT DARKNESS and was a worldwide bestseller. It started with WOLF BROTHER, the book that introduced the world to Torak, Renn and of course, Wolf.
Her most recent book is DARK MATTER - a spine-tingling ghost story!
Her next series is called GODS AND WARRIORS, and kicks off later this year...
Michelle runs a community for all her readers call The Clan - http://jointheclan.com/. It's free to join and there are lots of writing, art and video competitions with amazing prizes! Join the Clan to be the first to learn all about it!
To learn more about Michelle visit http://www.michellepaver.com/ and look at http://www.michellepaver.com/category/media to see videos of what she's been up to...